Author's Bookshelf
Author's Bookshelf
Lola Lafon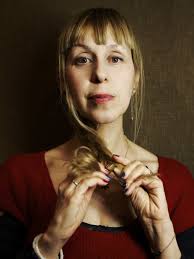 Lola Lafon, with a French, Russian and Polish background, was raised in the equally diverse cities of Bucharest, Sofia and Paris. Her first love was dance, but then she turned to writing. After publishing a few articles in fanzines and alternative reviews/journals, she was spotted by literary reviews: N.R.V (which means "angry" in French), among others, published Lola Lafon's first short stories between 1998 and 2000.
Her first three novels were published by Flammarion including Nous sommes les oiseaux de la tempête qui s'annonce (We Are the Birds of the Coming Storm) which was published in the US in September 2014 with Seagul Books. These titles were nominated for several French literary awards, and tackle several ideological themes such as capitalism, antifascism, utopia or feminism. Lola Lafon is politically engaged in several collectives, addressing feminist questions and concerns; while she runs writing workshops aimed towards underserved or disadvantaged youth populations.
Music is also an important part of this versatile artist's life. For each of her novels' release, Lola Lafon organizes a series of concert-readings tours. The concert-readings event created for La Petite communiste qui ne souriait jamais (The Little Communist who Never Smiled) was held in Bucharest and Timisoara before the novel's world debut, as an initiative of l'Institut Français. Once released in Paris, the novel was featured in more musical literary events at La Maison de la Poésie and several spring festivals.