Louis-Philippe Dalembert on 2021 Albertine Prize Finalist The Mediterranean Wall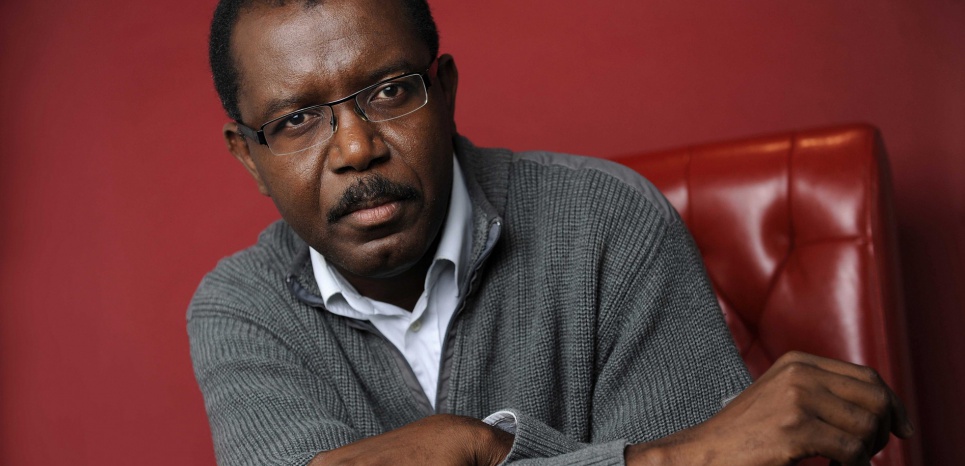 Born in Port-au-Prince, Haiti in 1962, Louis-Philippe Dalembert is a poet and writer who works in French and Creole. He worked as a journalist before moving to Paris in 1986, where he studied comparative literature. In 1996, he published God's Pencil Doesn't Have an Eraser (Le Crayon du bon Dieu n'a pas de gomme),a debut novel inspired by his own life which focuses on themes of identity and movement. Thirtheen years later, his new novel The Mediterranean Wall (tr. Marjolijn de Jager, Schaffner Press), a major event of the 2019 French literary season, tackles the issue of migration.
Inspired by true events, The Mediterranean Wall is a striking and essential novel, that confronts us with an unacceptable reality. Dalembert nevertheless never falls into pity and succeeds—thanks to his poetic writing style and sense of humor—in dignifying his characters, even as they endure terrible hardships. Over the summer, Louis-Philippe Dalembert virtually sat with us to discuss this masterly novel.
Albertine Prize Committee: Through the journeys of these three women, you tell the true story of a fishing boat making an apocalyptic attempt to cross the Mediterranean in the summer of 2014. Did you want to give a face to all of the migrants who perish anonymously at sea?
Louis-Philippe Dalembert: Yes, I did. By taking up this subject as a novelist, I wanted to show that behind the generic term "migrant" there are individuals with stories, with lives before they were forced to leave everything behind and embark on such a perilous journey. It was about portraying their humanity beyond statistics and the fear they spark in potential host countries.
Of course, this goes beyond what happens on the Mediterranean. Just look at the long treks of Central American migrants over the past 3 to 4 years, and now Haitians, to the United States. These people are men, women, and children, sometimes unborn, who have traveled hundreds of miles under the most difficult conditions to the U.S. border with the hopes of coming in. In front of them, they find walls. These are the walls that have been erected all around the world, in spite of the collapse of the Berlin Wall in 1989, which we thought would be the end.
A.P.C.: Your book is extremely well documented, demonstrating a real feat of research in addition to the novel. How did your research unfold?
L.-P.D.: As a matter of fact, I have carried this story with me since the late 1970s and early 80s. At the time, we used to talk about "boat-people." For us in America, there were Cubans and Haitians, who, for the same reasons as today, risked their lives on flimsy boats trying to reach the United States. My adolescence was marked by this phenomenon. I saw some of my neighbors and friends leave under these circumstances without hearing from them again. Without knowing if they had made it or died at sea. I have also seen some of them return, turned away by the U.S. Coast Guard, with a dead look in their eyes, and others end up in the prisons of dictatorial regimes.
Later, I lived in Italy for a long time. Italy, as you know, has been on the front lines of the wave of migrants from Africa and the Middle East for a very long time. So I was made aware of all of this very early on.
Finally, in addition to the many readings and documentaries I consumed, I spent a month on the island of Lampedusa where I was able to meet with organizations that welcome migrants, interviewed the current mayor, Toto Martello, who is rather hostile to receiving migrants, and spoke with the island's priest, Don Carmelo La Magra, who often finds himself between the two camps.
That being said, throughout the writing of the novel, I never lost sight of the idea that I had to tell a story, that the reader would want to turn page after page, to cry, to laugh and to hope with these three women.
A.P.C.: How did you choose these three figures who are so unique and so different? Did you have specific sources of inspiration?
L.-P.D.: First of all, I absolutely wanted to tell this story through female figures. Women represent an increasingly important segment of these travelers of misfortune and hope, forced to leave their countries because of war, climate change, or dictators. In the media, there is little mention of them. God only knows how many of them there are and how many of them are abused, in every sense of the term.
Based on my research and information gathered from migrants in Lampedusa, I envisioned the story of three women on board a boat: Chochana, a Nigerian Igbo Jew; Semhar, an Eritrean Orthodox Christian; and Dima, a Syrian Muslim. Everything separates these women: their ethnicities, their religion, their social class…
Alongside these women I placed secondary characters, both imaginary and real. There, too, I drew inspiration from testimonies I collected to create these characters. Hence, the smugglers are those who were arrested in Italy and whose photos were published in newspapers. I kept their nationality, age, and physical description the same, but I gave them different names.
A.P.C.: This book addresses the question of exile and reflects both political and ecological current events. Is it a call to solidarity, to awareness?
L.-P.D.: I wanted to make the boat that crosses the Mediterranean a world boat, an allegory of our planet with all its religious, social, and ethnic tensions. On the boat, there are thus three classes: the majority travel in the hold, a large percentage on the deck, and a tiny minority in two cabins on foam mattresses, protected from the wind. If everything separates these three groups, they all aspire to a better life. They have the same faith and the same determination to get there, and if the boat capsizes, everyone perishes.
The Mediterranean Wall, a novel by Louis-Philippe Dalembert, translated by Marjolijn de Jager, Schaffner Press, and published in France by Sabine Wespeiser.
Click here to purchase that book with us.