Albertine Book Club Winter 2018/Spring 2019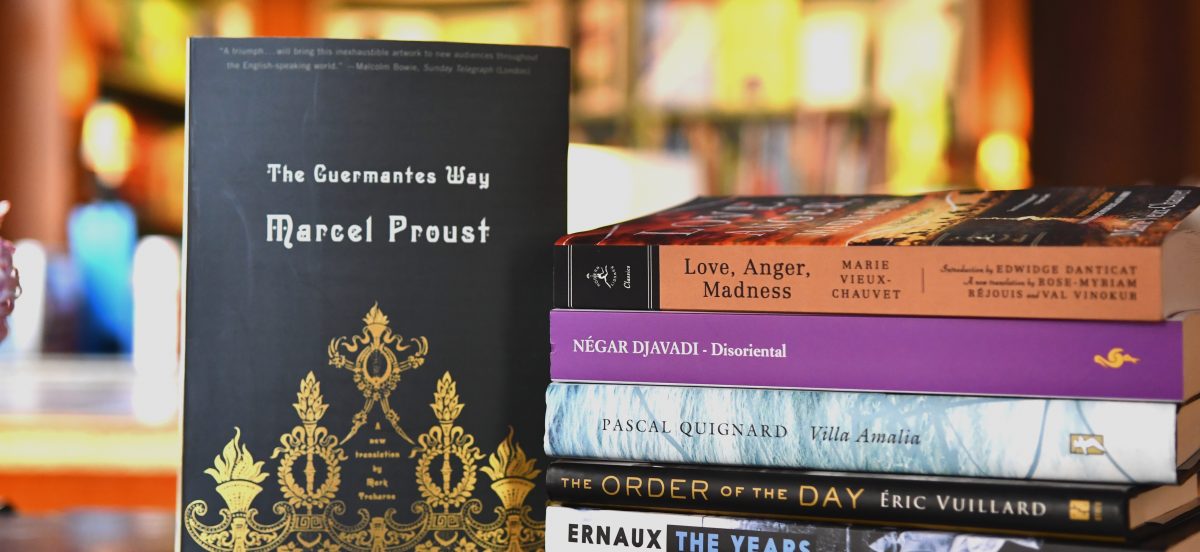 The most fruitful and natural exercise of the mind, in my opinion, is conversation.
—Michel de Montaigne
Join author and Columbia professor Caroline Weber and the staff of Albertine and the French Embassy's Book Department for fruitful and lively conversation around classic and contemporary French literature once a month. This season's selection will take readers on an extraordinary journey from Zola's 19th century, to Annie Ernaux's contemporary France, to pre-WWII Germany, Haiti in the 1950s, Iran, Mauritius, and beyond. The Albertine Book Club is open to Albertine Members and students with a valid student ID. Speakers of French and English are both welcome.
Rotating moderators will include author and Barnard  College of Columbia University Professor Caroline Weber; Deputy Counselor Hervé Ferrage, Cultural Attaché and Director of the Books and Ideas Department, Thibault Lacarrière; Book Officer Ondine Cotto and your beloved booksellers, Adam, Miriam and Sandrine.
Escape your daily routine for a few hours each month with books, friends and a glass of wine!
The Albertine Book Club is free and open to Albertine members and students with a valid Student ID card. For more information on how to become an Albertine member, click here.
CALENDAR
Wednesday, November 28 at 6:30pm: Germinal by Émile Zola, translated from the French by Roger Pearson (Penguin)
Considered by André Gide to be one of the ten greatest novels written in the French language, Émile Zola's Germinal is a brutal depiction of the poverty and wretchedness of a mining community in northern France.
Tuesday, December 18 at 6:30pm: The Years by Annie Ernaux, translated from the French by Alison L. Strayer (Seven Story Press)
The Years is both an intimate memoir "written" by entire generations, and the very personal story of a single member of one generation. Like the generation before hers, the narrator eschews the "I" for the "we" (or "they," or "one") as if collective life were inextricably intertwined with a private life that in her parents' generation ceased to exist.
Thursday, January 24 at 6:30 PM: The Order of The Day by Eric Vuillard, translated from the French by Mark Polizzotti (Other Press)
Winner of the 2017 Prix Goncourt, this behind-the-scenes account of the manipulation, hubris, and greed that together led to Nazi Germany's annexation of Austria brilliantly dismantles the myth of an effortless victory and offers a dire warning for our current political crisis.
Monday, February 25 at 6:30 PM: The Guermantes Way by Marcel Proust, translated from the French by Mark Treharne (Penguin)
After the relative intimacy of the first two volumes of In Search of Lost Time, The Guermantes Way opens up a vast, dazzling landscape of fashionable Parisian life in the late nineteenth century, as the narrator enters the brilliant, shallow world of the literary and aristocratic salons. Both a salute to and a devastating satire of a time, place, and culture, The Guermantes Way defines the great tradition of novels that follow the initiation of a young man into the ways of the world.
Tuesday, March 19 at 6:30 PM: Villa Amalia by Pascal Quignard, translated from the French by Chris Turner (Seagull Books)
Musician Ann Hiden suspects that her partner, Thomas, is cheating on her. Once her intuitions are confirmed, she takes radical action: while Thomas is away, she resolves to secretly sell their shared house and get rid of all physical manifestations of their sixteen years together. Thomas returns to find her gone, the locks changed, and his few possessions packed up and sent to his office. Ann, meanwhile, has fled the country and started a new, hidden life. But our past is never that easy to escape, and Ann's secrets eventually find her. Villa Amalia is the rapturous account of Ann's quest for solitude and inner peace. Fascinating and enchanting!
Tuesday, April 16 at 6:30 PM: Disoriental by Négar Djavadi, translated from the French by Tina Kover (Europa Editions)
In this high-spirited, kaleidoscopic story, key moments of Iranian history, politics, and culture punctuate stories of family drama and triumph. Yet it is Kimiâ herself––punk-rock aficionado, storyteller extraordinaire, a Scheherazade of our time, and above all a modern woman divided between family traditions and her own "disorientalization"––who forms the heart of this bestselling and beloved novel.
Tuesday, May 14 at 6:30 PM: Love, Anger, Madness: A Haitian Triptych by Marie Vieux-Chauvet, translated from the French by Rose-Myriam Rejouis (Knopf)
Love, Anger, Madness is not only Marie Vieux Chauvet's masterpiece, it is also the major literary work to emerge from the era of the Haitian President François Duvalier. This trilogy is nothing less than a vibrant portrait––beaming with sensuality, frustration and rage––of the coming-to-power of Duvalier with its share of humiliation, horror, and terror. The novel resonates with the rebellion of a woman who defies all moral, social, and political taboos.