A Note from Antonin Baudry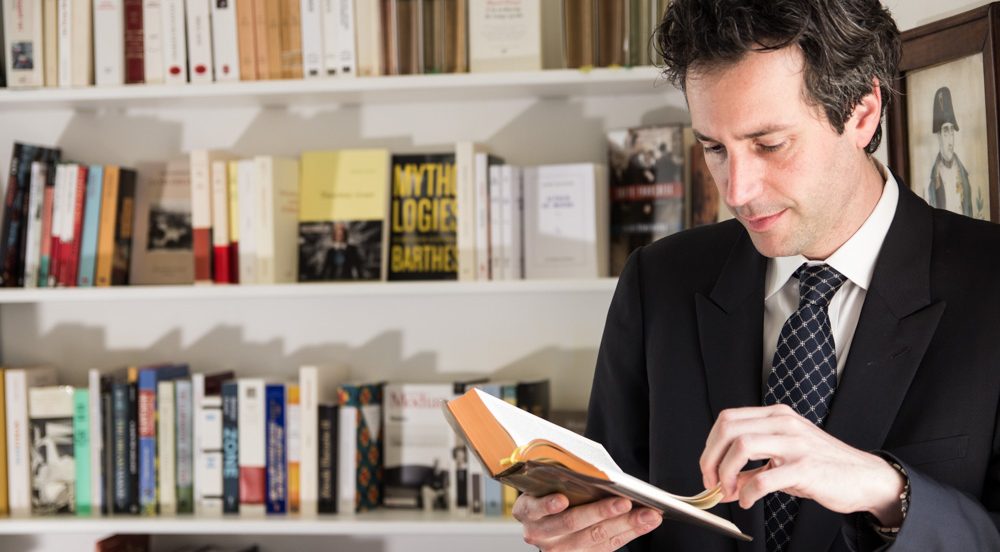 "It is life that, little by little, case by case, enables us to observe that what is most important to our heart, or to our mind, is learned not by reasoning but by other powers.  And then is it the intellect itself which, taking note of their superiority, abdicates its sway to them upon reasoned grounds and consents to become their collaborator and their servant.  It is faith confirmed by experiment."
-In Search of Lost Time by Marcel Proust
Dear Friends,
It is with great pleasure that I welcome you to Albertine. As a project of the Cultural Services of the French Embassy, this space was conceived as not only a haven for book lovers and a reading room for literary flâneurs, but also as a forum for intercultural debates and conversations between French, American, and European thinkers, on subjects from politics and philosophy to science and math.
Though the space, at the heart of the French Embassy, is flanked by over 14,000 books from France, America, and around the world, and though certain books touch me deeply, I have a secret to share with you: Albertine was inspired by people.
From Antoine Compagnon who guided me through my first exploration of Proust, to the tireless diplomats that led me through Quai d'Orsay and around the hidden chambers of international affairs in Paris and New York, to the energizing New Yorkers and French people I have met in my current role, I must admit to you, dear friends, that it is these animators of intellect, and the texts they illuminated, that moved me to found this collaborative space.
These people inspired Albertine because they brought to light the power of books. They opened my eyes to the treasures that lie deep in the cracked spines of novels and nonfiction alike. They revealed to me—and this is something Proust himself knew well—that these treasures operate on a more sentimental than rational plane. Though their contents unfurl logically, and while they communicate in alphabets and symbols, books appeal strongly to our hearts. And this relationship develops over time, peu à peu, cas par cas, into a crescendo of knowledge crystallized by the emotional bond we build with a paper object that imparted its wisdom to us.
As Proust reminds us above, intellect is not almighty. At Albertine I want you to feel nourished not only by the abundant intellectual fodder held in the words and pages of these volumes but by the people you encounter—fictional or mortal—during your exploration.
We look forward to seeing you at Albertine soon!
Sincerely,
Antonin Baudry
Ambassador for French Culture and President of the Institut français, Paris