Festival Albertine 2016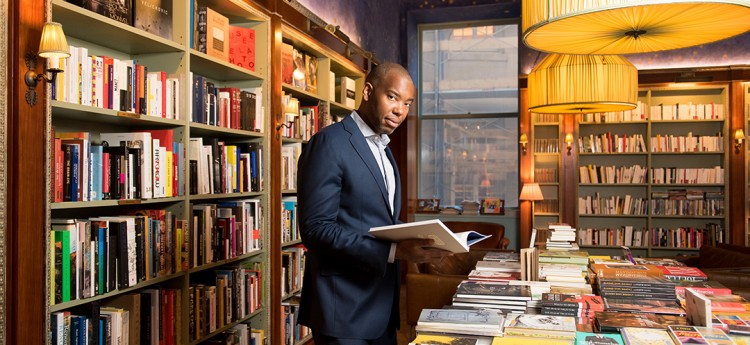 Curated by National Book Award-winning author of Between the World and Me, Ta-Nehisi Coates, the third annual Festival Albertine will take place from November 2nd through 6th, 2016. The Festival will explore the changing nature of identity and how the arts interrogate our national, social, and cultural labels today in France and the US.
Showcasing Albertine's mission to nurture French-American exchange around books and ideas, the Festival will bring together a wide range of American and French writers, artists, thinkers, and scholars including including Kehinde Wiley, Jacqueline Woodson, Iris Deroeux, Benjamin Millepied, Claudia Rankine, Darryl Pinckney, Benjamin Stora, Jelani Cobb, Kelly Sue Deconnick, Thelma Golden, Jennifer Homans, Nacira Guénif-Souilamas, Pap Ndiaye, David Simon, Catherine Meurisse, D'de Kabal, Rabah Ameur-Zaïmeche, Claire Diao, Nina Shaw, Kamilah Forbes, Laurent Dubois, Scholastique Mukasonga, Darryl Pinckney, Chris Jackson, Denis Darzacq, Thomas Lax, Raphaël Confiant, Zahia Rahmani, Virginia Johnson, and Adam Shatz.
Events will take place at Albertine Books, located in the Cultural Services of the French Embassy in New York (972 Fifth Avenue). Festival Albertine is free, open to the public, and will be streamed live at livestream.com/frenchembassy.
The program of the Festival is available here.
Festival Albertine is made possible with major support from The Recanati-Kaplan Foundation, Susannah Hunnewell, Air France, Van Cleef & Arpels, and Institut français. Generous support is provided by Michele and Timothy Barakett, Cheryl and Blair Effron, and Champagne Pommery.
Special thanks to The Center for Ballet and the Arts at New York University.
When Will France Have Its Barack Obama?
WEDNESDAY, NOVEMBER 2, 2016
7:30PM
Looking at differences in construction of identity in France and the United States, journalists Iris Deroeux and Jelani Cobb, and historians Pap Ndiaye and Benjamin Stora will ponder what specifically allowed for Barack Obama in the U.S. and how a similar evolution could happen in France. Moderated by Ta-Nehisi Coates.
From the Margins to the Mainstream
THURSDAY, NOVEMBER 3, 2016
7:30PM
Producer David Simon (The Wire); graphic novelists Kelly Sue Deconnick (Captain Marvel) and Catherine Meurisse (La Légèreté); and spoken word artist D'de Kabal (Chants Barbares) will examine how, and why, certain art forms (from television to comic books and slam poetry) move from low art to high art, and how those same art forms are considered within the realm of French and American culture. Moderated by Ta-Nehisi Coates.
Blacklisted: From Hollywood to Paris
FRIDAY, NOVEMBER 4, 2016
7:30PM
Filmmakers and industry experts Claire Diao, Rabah Ameur-Zaïmeche, and Nina Shaw will consider questions of diversity, inclusion, and representation in French and American cinema, from Hollywood to Cannes Film Festival. Moderated by Kamilah Forbes.
Europe and America in the Black Literary imagination
SATURDAY, NOVEMBER 5, 2016
5:00PM
After the Second World War, prominent African-American authors such as Richard Wright, James Baldwin and Chester Himes made Paris their home. French authors have themselves long been fascinated by the United States, and New York in particular. This common interest has fed many authors' writing, both thematically and stylistically. The essayists and novelist Laurent Dubois, Darryl Pinckney and Scholastique Mukasonga will reflect on this mutual fascination and ponder how it has impacted their own work and influenced literature more broadly. But how substantive is this connection—is it myth or reality?
Art, Race, and Representation
SATURDAY, NOVEMBER 5, 2016
7:30PM
Artists Denis Darzacq and Kehinde Wiley, curator Thomas Lax, and sociologist Nacira Guénif-Souilamas explore race and representation in contemporary art through practice and process in a conversation moderated by Thelma Golden.
Every Name in the Street
SUNDAY, NOVEMBER 6, 2016
3:00PM
Considering language as a site of political struggle and a reflection of the social constructions that shape our worldview, Claudia Rankine, Zahia Rahmani, Jacqueline Woodson, Raphaël Confiant, and Adam Shatz will discuss the intersections between identity, language and politics. What is the role that literature plays in challenging our preconceptions and reimagining society?
Race, Equity, and Otherness in Ballet and Society
SUNDAY, NOVEMBER 6, 2016
5:30PM
Co-presented by the Center for Ballet and the Arts, New York University
Made possible by Michele and Timothy Barakett and Cheryl and Blair Effron
Recently, ballet companies have been denounced for uncritically perpetuating traditions at odds with contemporary society and notions of racial diversity, equality, and social justice.
In a conversation moderated by Jennifer Homans, Benjamin Millepied, and Virginia Johnson discuss race, equity, and otherness in ballet, against a larger backdrop of identity politics in American and French society today.